Ancestors of Jazmine Alyse JAY
Seventh Generation
---
64. Isaac JAY was born on 8 Dec 1830 in Troy, Miami, Ohio. He died on 6 May 1897 in New Sharon, Mahaska, Iowa and was buried in Friends Cemetery, Prairie Twp., Mahaska, Iowa. Isaac married Ruth DAVIS on 24 Sep 1852 in Jonesboro, Grant, Indiana. [Parents]
65. Ruth DAVIS was born on 14 Feb 1832 in Liberty Twp., Henry, Indiana. She died on 12 Feb 1893 in Crestline, Cherokee, Kansas. [Parents]
---
66. Christopher Columbus MARTIN was born on 20 Mar 1854 in Neosho, Newton, Missouri. He died on 3 Feb 1923 in Neosho, Newton, Missouri and was buried on 4 Feb 1923 in New Salem Cemetery, Neosho, Newton, Missouri. Christopher married Margaret SMITH on 13 Apr 1873 in Neosho, Newton, Missouri. [Parents]
67. Margaret SMITH. [Parents]
---
68. Nathan WILSON married Mary Elizabeth.
---
70. Elisha J. PETERS married Mary Elizabeth MCBRIDE.
---
72. Samuel PROVINS was born on 8 Oct 1802 in Ireland. He died on 13 Jun 1882 in Deseronto, Ontario and was buried in Huffman Cemetery, Deseronto, Ontario. Samuel PROVINS married Eliza Jane MCLAUGHLIN on 3 May 1831 at the Methodist Episcopal Church.
73. Eliza Jane MCLAUGHLIN was born on 1 Aug 1809 in Ireland. She died on 24 Dec 1886 in Deseronto, Ontario.
Link to the plat of Samuel Provins' land in Ontario: (opens in a new window)
http://imago.library.mcgill.ca/countyatlas/showMap.asp?Township=Richmond&plotX=1122&plotY=138&getMap.x=39&getMap.y=15
---
78. Archibald CASTLEBERRY married Phebe Anne MIKESELL in 1860.
79. Phebe Anne MIKESELL was born 16 April 1841 in Preble County, Ohio.. [Parents]
Obituary for Phebe Anne (Mikesell) Castleberry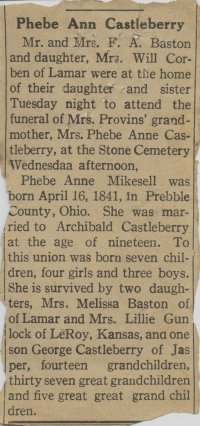 ---
88. Joseph GRAY was born in Sep 1816. He married Mary Louisa KING on 25 May 1848 in Howard, Missouri.
89. Mary Louisa KING was born on 10 Mar 1829.
---