Ancestors of Jazmine Alyse JAY
Fourth Generation
---
8. Wilbur Glen JAY was born on 13 Aug 1928 in Neosho, Newton, Missouri. He died on 22 Oct 1972 in Neosho, Newton, Missouri and was buried in New Salem Cemetery, Neosho, Newton, Missouri. Wilbur married Beatrice May PROVINS on 30 May 1947 at the First Methodist Church in Joplin, Jasper, Missouri. Wilbur was employed as a Carpenter/Electrician/Plumber. He died of a histiocytic lymphoma. [Parents] [Residence]
9. Beatrice May PROVINS was born on 22 Nov 1925 in Diamond, Newton, Missouri and died 17 Sep 2016 in Memphis, Shelby, Tennessee. She is buried in Osborne Cemetery, Joplin, Newton, Missouri. Beatrice was employed as an Office Manager at the Meeker Company (leather goods) in Joplin, Missouri for 33 years.[Parents]
| Original Triplet Announcement | 50 Years Ago Triplet Announcement |
| --- | --- |
| | |
Wilbur Glen Jay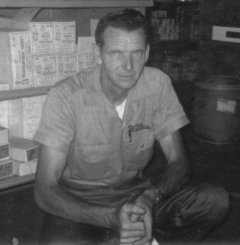 Obituary for Wilbur Glen Jay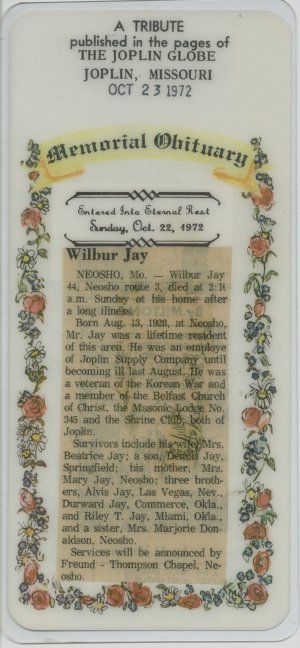 ---
10. James Henry BIAS, Jr. was born on 5 May 1936 in Fayette, Howard, Missouri. He married Norma Jean GRAY on 3 Nov 1954 in Bladensburg, Prince George's County, Maryland. [Parents] Jim is a retired commercial airline pilot and currently owns and operates Bias Winery in Berger, Missouri.
11. Norma Jean GRAY was born on 1 Aug 1935 in Meadville, Linn, Missouri. She died on 12 Apr 1997 in Berger, Franklin, Missouri and was buried in Berger, Franklin, Missouri. [Parents] Norma founded Bias Winery in 1980 and was very active in promoting Missouri wineries. She died of lung cancer.
---
12. John BROWN married Thelma Jean MCKINNEY.
---
14. Don BRICKEY married Margarita.
---